Read the Reviews
»

This is a fabulous book, and a real education too--a beautiful introduction to hands-on chemistry. Theo Gray brings us dozens of experiments in minute, clear, and loving detail, and each one becomes a door onto the marvels of how chemicals react. Whether he is showing us how to make table salt from its violent elements, or, in a quieter vein, to make one's own nylon thread or "lead" pencils, Gray's encyclopedic knowledge and contagious enthusiasm transport us to deep intellectual realms, while never sacrificing a sense of wonder and, above all, fun.


Oliver Sacks, Awakenings, Uncle Tungsten, Musicophillia

What a magnificent book. It's gorgeous, playful, and draws you in. Every single photo shows not only a deep love of science in the abstract, but also a tinkerer's love of the STUFF of science; the tools and glass, the clay and metal, and all the things that make science accessible to everyone.


Adam Savage, star of MythBusters

What good is this Nobel Prize around my neck if it doesn't produce admiration for science writers such as Theo Gray, whose skillful work helps convert young students into serious researchers.


Leon Lederman, winner of the 1988 Nobel Prize in Physics

Theo's MAD SCIENCE is destined to inspire and spark the imaginations of the next generation of makers, tinkerers, engineers and mad scientists!


Phillip Torrone, Senior Editor of MAKE Magazine

I've spent 22 years working with Theo Gray on creating software, seeing him find simple ways to do the seemingly impossible. You're in for a treat when he applies the same creativity and insight to revealing the science of everyday things.


Stephen Wolfram, creator of Mathematica & author of A New Kind of Science

Theodore Gray has attained a level of near superhuman geekery that the rest of us can only mutely admire.


Cecil Adams, The Straight Dope
Buy the Book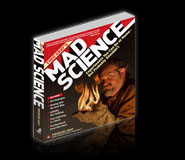 Popular Science
Buy Posters
& Merchandise