Theo Gray's
»
Mad Science

hat happens when you blow pure chlorine gas into a bowlful of molten sodium? A fire, that's what. But the smoke coming off of that fire happens to be extremely fresh common table salt (NaCl, sodium chloride) that can be used to salt a net full of popcorn suspended over the flame. That is, until the net melts and the popcorn drops into the bowl sending a shower of flaming liquid sodium balls in all directions!
In Mad Science Theodore Gray reveals how to demonstrate scientific principals through extreme experiments. He launches a toy rocket using the energy released from an Oreo cookie, ignites a "phosphorous sun" by suspending half a gram of white phosphorus in a globe filled with pure oxygen, whips up a batch of homemade nylon thread by linking the molecules of hexamethylenediamine and sebacoyl chloride, and gets the party started by adding 500 pounds of quicklime to water to create a homemade hot tub.
Every experiment in Mad Science is accompanied by stunning full-color photographs that provide a front-row seat to split-second chemical reactions and glorious subatomic activity. To further enhance the hands-on experience of scientific exploration, Gray includes step-by-step instructions for nearly every experiment. Following all of the safety guidelines, readers can safely recreate some of the fifty-five experiments in the book including making sinking ice cubes, building sodium acetate sculptures, and burning steel. Other experiments, such as igniting liquid oxygen drops or turning beach sand to steel, would be just plain crazy to attempt without the aid of an experienced chemist or someone who has performed the experiment successfully before.
Mad Science is the perfect book for anyone fascinated by all things electrical, chemical, or explosive, and who loves a vicarious thrill.
Buy the Book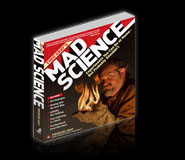 Popular Science
Buy Posters
& Merchandise